And they continued steadfastly in the Apostles' doctrine and fellowship and in breaking of bread, and in prayers. Acts2:42
Calvary Chapel Sydney commenced in May 1987 as Living Word Community Church when Pastor Des Daniels and some friends commenced public ministry worshiping together at Gladesville in Sydney's north west. The call for Des and the congregation was to form a fellowship where the Bible was faithfully taught each week under the guidance of the Holy Spirit. Des gained affiliation as a pastor under Calvary Chapel Costa Mesa and he followed the Calvary Chapel tradition of teaching through the Bible. In time the fellowship grew with outreaches to the community.
In 1997 we moved to Wharf Road, West Ryde, continuing public worship and this was where we celebrated our 10-year anniversary. At West Ryde Des ran a School of Ministry program in conjunction with the Calvary Chapel Bible College Murrieta. Students from USA and locally were taught one or two semester accredited courses in Bible studies. From Wharf Road we met in Koorong Bookshop's upstairs meeting room and in community halls for a number of months.
In 2003 we were by God's grace able to purchase our current premises in the newly completed development at Enterprise Park on Hoyle Avenue in Castle Hill where we set up as Calvary Chapel of Sydney. We have since held public worship here each Sunday.
After 20 years of leading the fellowship Des Daniels left in 2007. We were led by elders until Pastor Ben Grisez accepted the call to lead the fellowship in 2010. Ben is an ordained Calvary Chapel pastor and has continued the tradition of teaching through the Bible verse by verse. In 2018 we merged with Calvary Chapel Epping which was led by Pastor John Graves.
A prime area of our focus is making disciples of Jesus Christ through the study of God's Word through regular meetings and courses. It has been a blessing as a church to regularly donate funds to local and overseas ministries for God's glory. Over the years many from our church have travelled overseas to share the love of Jesus and the Gospel through short-term medical mission trips as well as ministering locally at Camp Kedron in leadership roles.
We can say wholeheartedly that God is faithful in all ways; His provision of all our needs is profound. We are blessed to be God's children (John 1:12) as we continue in His calling to love God, love people, and make disciples of Jesus Christ!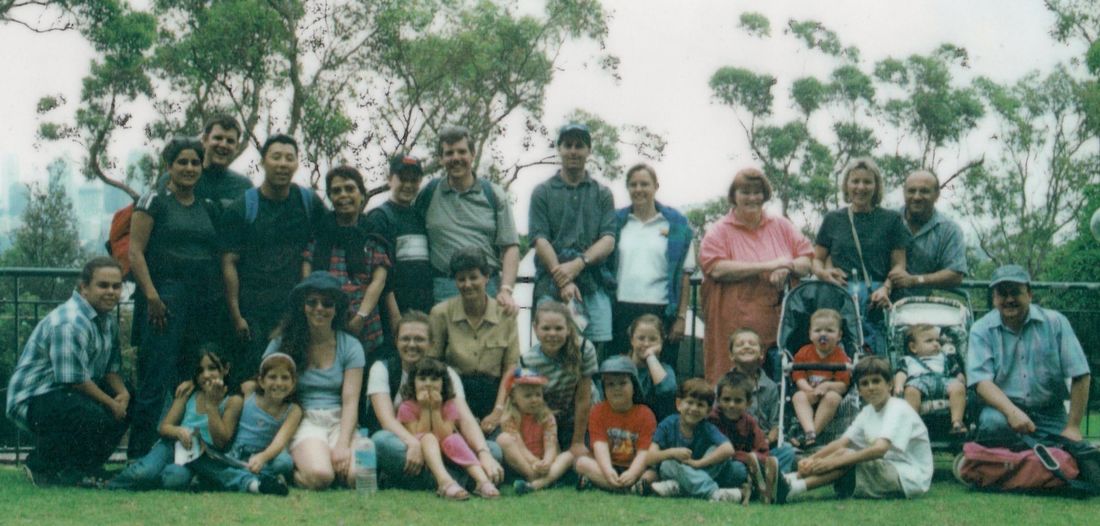 Zoo outing in 2000